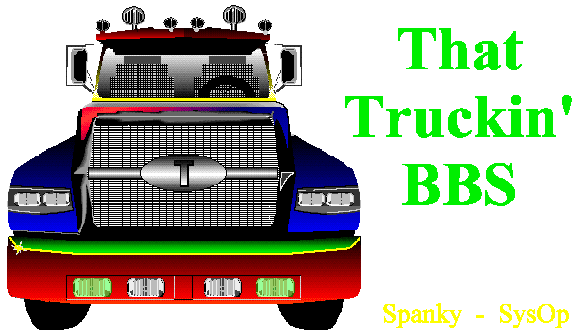 ---
---
717-223-1419
The Nations First On-Line Information Service for Vanners
---
Spanky - SysOp
C.E.O. - Linden Truckers
Member - NJVC (New Jersey Van Council)
---
That Truckin' BBS was created by Spanky (spanky@epix.net) as a way to promote Vanning by getting Event, Club/Council and other Vanning related information to CyberVanners in the On-Line world. It has grown to include many BBS favorites such as shareware programs, Games and EchoMail Message Bases (currently being revised). This project began in April 1994 and went Public in September of that year. It has since been advanced by handing out leaflets at Events in the East, advertising in local newspapers and now, via the WWW. Full Access is free to ALL and everyone is invited to send their Event, Club, Council and other Vanning related information for FREE Listing!


--- NEWS FLASH ---

After nearly a YEAR of trying to get ANY Vanning Information listed with Yahoo, the great minds there have finally decided to give us our own Yahoo! CATEGORY!!! Just go to www.yahoo.com and type in "vanning", then click on the Yahoo! Catagory - Recreation:Automotive:Clubs and Orginizations:Vanning. This will take you to THEIR list of Vanning Pages. We believe that this decision will give ALL Vanning Pages more exposure and help spread the word!!! THANKS YAHOO!

To go DIRECTLY to www.yahoo.com/recreation/automotive/clubs_and_organizations/vanning just click on the word "YAHOO!" below.