---
---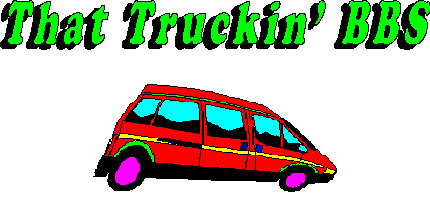 717-223-1419
---
---
---
Spanky - SysOp
C.E.O. - Linden Truckers
Member NJVC (New Jersey Van Council)
---
---
That Truckin' BBS is a product of the mind of Spanky, a Truck Driver, Vanner and somewhat of a novice computer user in early 1994. Having been given his first computer (a Tandy 1000) in September, 1993 and shortly after that, purchasing and installing a hard drive and a 2400 modem, he soon became aware of CyberSpace (CompuServe, AOL and various local BBS's) and he thought to himself "Hhhmmmm.... There must be other computer geeks out there that are Vanners too, I might be able to use this CyberSpace to help exchange information about Vanning between us" His fellow Club Members (none of whom owned a computer) said "You're NUTZ Spanky!!!". Needless to say, after a little time and LOTS of money, That Truckin' BBS was born. Today That Truckin' BBS runs on a 486DX266, one of several systems that Spanky built himself (see Technical Notes below) and he is still using CyberSpace (his BBS and the Internet) as a way to promote Vanning.
---
---
---
What you see....
---
---
---
That Truckin' BBS is a free access BBS that has Vanning Event, Club and Council Information, Downloadable Pre-Reg forms and Event Reviews available to it's callers. It has primarily become a source of shareware programs (currently with 10 On-Line CD Roms and 12 additional CD's available for 24 hour file requests) with more than 15 Gigs of compressed files (over 100,000) available. In addition to files there are also many EchoMail Message Bases (which are currently being revised), On-Line Games and Adults Only Areas (Message Bases, Games and CD's) available. It is considered by many callers to be one of the best BBS's in the Pocono Region of Northeast PennsylVANia.
---
---
---
What you get....
---
---
---
Every Caller gets immediate FULL ACCESS to ALL of the above (What you see....), upon providing the required information. Adult and SysOp restrictions apply. You get an ample 30 minutes per day FREE connect time and for those of you who require additional time per day, VERY affordable Memberships ARE available.
---
---
---
Technical Notes....
---
---
---
That Truckin' BBS currently runs on an IBM PC based 486DX266 CPU with 8 megs RAM using the MS-DOS 6.2 Operating System. Connected to this system are 3 Phillips IDE single speed CD Rom drives and an NEC MultiSpin 2Xc double speed SCSI 7 disc changer. The BBS was created using Mustangs Wildcat! software, version 3.92S and is currently a single-node operation being brought to you via a Practical Peripherals PM144MT II modem.
---
---
---
The Future....
---
---
---
Spanky intently gazes into his crystal ball and can barely make out a Pentium 450 (perhaps faster) CPU with 132 megs of RAM running under the Windows99 Operating System. He sees five 16 speed, 14 disc CD Rom changers connected to this system all running under the command of Mustangs ANNIHILATOR! software controlling 96 high-speed ISDN lines connected directly to the Internet!!! Oh Well, at least we have a DREAM!!! :)
---
---