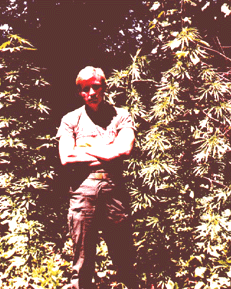 Glenn Tovay
Glenn Tovay was born April 5, 1948 and checked out on December 11, 1998 from what his friends and brothers believe were complications brought on by the chemical defoliant Agent Orange. Glenn was a founding father of the Linden Truckers and could be seen at many evants wearing the finest military collectibles.

Glenn enlisted in the army April 5, 1965 where he became a member of the elite Company A 501st Infantry of the 101st Airborne Division " Screaming Eagles". He finished his jungle training at Fort Benning, Ga. and earned his jump wings on November 19, 1965. Glenn then went on to become a member of the elite Company A 4th Battalion Airborne 503rd Infantry of the 173rd Airborne Brigade "Sky Soldiers". He was deployed to Vietnam on February 2, 1966.

During extensive search and destroy missions which originated at Bien Hoa Airbase Glenn was in almost constant combat during his tour. He was exposed to the chemical defoliant Agent Orange several times while on long-range patrols. While participating in Operation Junction City during February 1967 Glenn's platoon was one of few involved in the Vietnam War's only combat paratroop drop. While conducting a search and destroy mission during this operation Glenn's platoon was ambushed and Glenn was severely wounded ending his distinguished military career.

Glenn received the following medals and badges while in the service: Parachute Badge, Vietnam Service Medal, National Defense Service Medal, Republic of Vietnam Campaign Medal, Overseas Bar, Purple Heart, 1 Bronze Star, 1 Silver Star, and the Distinguished Service Cross.

We miss our friend and brother and we'll do our best to keep his memory alive.